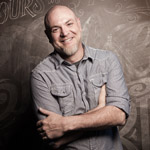 What question does every parent ask their kids after Sunday School? "What did you learn today?" What's every kid's answer? "Umm. I don't remember."
I want to encourage you to combat the "I dunnos" by identifying a single, simple, solid takeaway for the day that you can rehearse with your kids at the end of your lesson before they leave the classroom. Regardless of what curriculum you use, creating your own summary statement that encapsulates the key concept of the day is a fun and creative way to increase retention and make your studies more sticky (metaphorically speaking).
Forming a phrase isn't hard; you can do it yourself or with your leadership team beforehand, or include older kids in the process. Just identify one clear teaching that you want your kids to remember, and teach it to them as a memorable phrase that will make your lesson live on as they go on with their day. Use short simple phrases that incorporate rhymes or alliteration. If your bible lesson is about living out your faith so that your actions match your words you might summarize using a phrase like, "Don't just say it, display it."
We use a lot of words in our class time. Make it easy for your kids to remember more of your lessons by summarizing them with catchy, fun phrases.
Chuck Peters is Director of Operations for Lifeway Kids. A graduate of Columbia Bible College, Chuck has served vocationally & voluntarily in Student and Children's Ministry for many years.