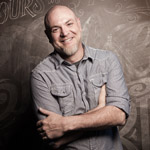 Every week, my young kids come home from church with a collection of crafts that they've created with paint, glitter, and glue in Sunday School. Most of the time, their creations end up on the floor of the car or in a stack of stuff on the kitchen counter. If you're a parent, you have no doubt experienced this too,
So here's an idea for you. Don't send everything home. You can use your crafts as a tool to create a sense of belonging and identification between your kids, their families, and the church by displaying their artwork in a prominent place where people can see it as they pass through your space. You may choose to display their works of art inside a classroom, but it may be even better to put them up on a bulletin board in the hallway. This gives your kids a sense of pride and accomplishment and creates positive feelings for their parents as they appreciate the artistic prowess of their prodigies. It also lets everyone in the church see the fun things that are happening in your children's ministry.
While we often hope our crafts and handouts will stimulate spiritual conversations in homes, they may occasionally be better used to create a connection to the church and to your ministry.
Chuck Peters is Director of Operations for Lifeway Kids. A graduate of Columbia Bible College, Chuck has served vocationally & voluntarily in Student and Children's Ministry for many years.