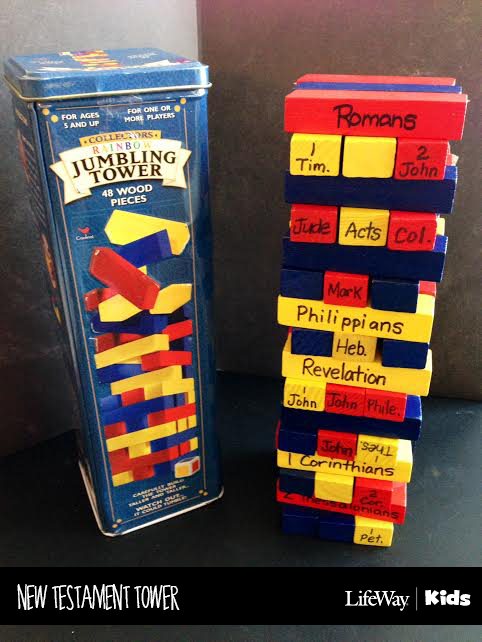 Gather:
From a garage sale or a discount retail store purchase a "Jenga" type wooden tower stacking game
Fine tip permanent marker
Prepare
On 27 separate blocks print a book of the New Testament. Be sure to include abbreviated book titles on the ends.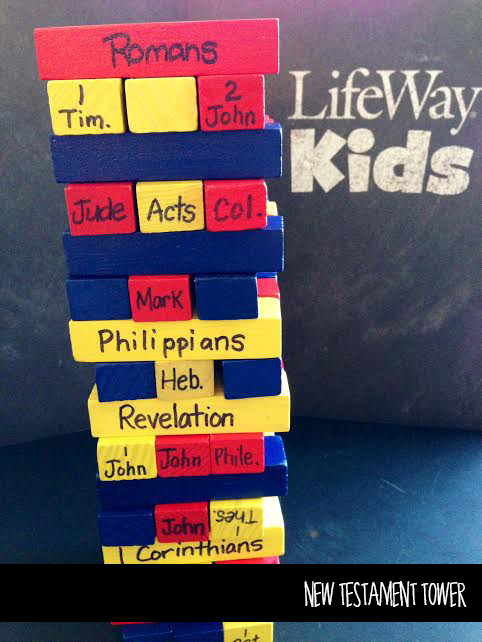 Play:
Stack the tower as you would to play a regular game of "Jenga." Be sure to alternate the direction of each row of blocks.
The goal for each player is to remove a book of the Bible block without the tower tumbling over. The longer the game lasts, the harder it will become to not tumble the tower.
Player 1 will start by choosing a block to remove from the stack.  Upon removal player 1 should name the book before the one removed and the book after (example: Remove 1 Thessalonians, name the book before, "Colossians," and the book after, "2 Thessalonians.")
Player 2 will choose a block to remove and follow the same pattern or recalling neighboring books.
Continue until the tower tumbles over.
OPTIONAL PLAY: Seek to remove the books of New Testament in order:
More Bible Skill Games
Since 2003 Bill Emeott has served as a Kids Ministry Specialist for Lifeway. His passions include childhood ministry leadership training and development, leading children's Bible Study, and being an Uncle! Bill has been teaching children at First Baptist Nashville for ten years.