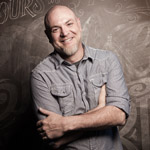 At the time of its television premiere in 2006, Disney's High School Musical was an instant success. It is estimated that in its initial airings on the Disney Channel, HSM reached 24 million viewers. The DVD sold 1.2 million copies in its first six days, making High School Musical the fastest-selling television film of all time, and with 3.7 million units sold, the film's soundtrack was the best-selling album in the United States in 2006. It's catchy music and relatively innocent plot line quickly made HSM a family favorite. Statistically speaking, most of the kids in your ministry have likely seen HSM. Your leaders certainly have! While the movie was about high school students, the bulk of the viewers were not high schoolers. We know that kids aspire up, so many preteen and younger kids bolstered the popularity of the movie. Kids want to be teens, and one day soon they will be.
The central theme of HSM can be summed up in the signature song from the film, "We're All in This Together." Consider these lyrics:
Everyone is special in their own way
We make each other strong
We're not the same
We're different in a good way
Together's where we belong
We're all in this together
And it shows
When we stand
Hand in hand
We're all in this together
This simple song contains volumes of value for us as we minister to the vast range of pre-adults in our churches. It is time to acknowledge, and create ministry strategies, that are based on the reality that we are, in fact, in this together. We need to break down walls and build bridges between preschool, kids, preteen, and student ministry areas to develop a coordinated, if not unified, strategy for discipling our young people from birth through high school so that each child's experience is consistent as they progress through a lifetime of learning about our great God within the church. We need to function as individual teams, but we also need to join together around common goals. We call them ministry essentials. An effective ministry should be Heart Transforming, Kingdom Expanding, and Culture Shaping. While we need to contextualize ministry to kids at the various stages of their development, we cannot forget that we share a common goal: to see kids transformed by Jesus, for their good and His glory.
We already see this unification of ministry mindset happening in the church. Many are moving to a family ministry model in how they structure their staffs. Some call it NextGen, others call it Family Ministry. Whatever you call it, there is a broad trend towards having a single pastor over birth through high school, and connected to parents as well as kids; and more and more ministry teams want to attend conferences together where they can gear up for ministry both individually and as a team.
In order to serve you in the most effective ways possible, we are expanding the Lifeway Kids Ministry Conference to include middle school and high school ministry; to welcome in NextGen, Student, and Family Ministry leaders and teams. We call it the ETCH Family Ministry Conference. ETCH stands for Equipping the Church and Home. This new Family Ministry Conference will excite, inspire, and engage Kids, Student, Next Gen, and Family Ministry team members with equipping sessions for their individual ministry areas, and combined team sessions.
You will hear from great leaders and speakers like Lisa Harper; Dr. Russell Moore; Vicki Courtney; Dr. Eric Geiger; Director of Lifeway Students, Ben Trueblood; and Director of Lifeway Kids, Jana Magruder. We are planning a wide range of breakout sessions for you and your team members, featuring age-specific training for preschool, kids, preteens, and students as well as combined sessions designed to help you get your whole team on the same page. And we are lining up some incredible Nashville music to help you experience the sounds of our home town.
ETCH Conference is October 3-5 at the Music City Center in Nashville TN. Details are coming together quickly! Our website www.etchconference.com has been refreshed and updated with more event info, and more will be added soon.. You can even sign up for our email updates to know when more info is added!
We are all in this together, and we are better together. We are looking forward to hosting you and your whole ministry team this fall, in Nashville, as we come together as one big, giant family, for ETCH.
Chuck Peters is Director of Operations for Lifeway Kids. A graduate of Columbia Bible College, Chuck has served vocationally & voluntarily in Student and Children's Ministry for many years.